2023 McGraw Prize in Education awardees reflect on changing lives, starting with their own
News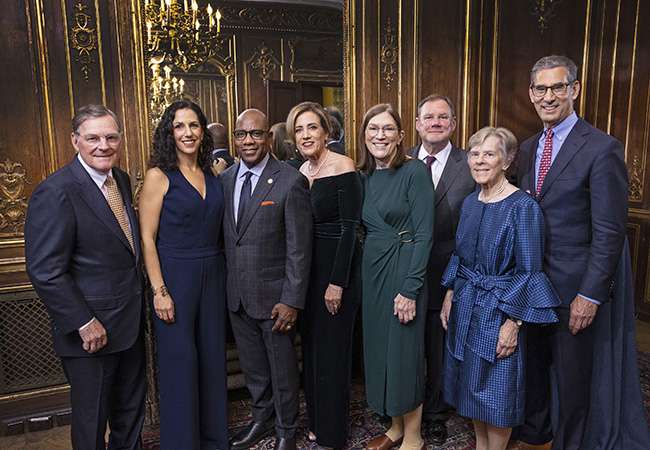 From left, Harold McGraw III, Penn GSE Dean Katharine Strunk, David Wilson, Deborah Durado, Barbara Oakley, Robert McGraw, Suzanne McGraw, and Catalyst @ Penn GSE's Michael Golden at the McGraw Prize celebration on November 8. 
How can educators help learners discover who they want to become and the path that will get them there?
As they accepted their Harold W. McGraw, Jr. Prizes in Education on November 8 at the Morgan Library & Museum in New York City, Debra Duardo, David Wilson, and Barbara Oakley each reflected on their lives, and how these questions have pushed them forward. 
While these awardees have done groundbreaking work — Duardo in Pre-K–12 classrooms, Wilson on college campuses, and Oakley advancing lifelong learning —  each spoke about their search for the next breakthrough, one that will create even more opportunities for learners to thrive. Showcasing that drive for educational innovation was a reason the McGraw Family Foundation created the prize in 1988. 
"The creativity, the passion, the innovation, the knowledge, the intelligence and the desire and drive to help others - that is what this honor is all about," said Harold McGraw III, former Chairman, CEO and President of The McGraw-Hill Companies.