Cheryl Logan prepares leaders to navigate political turbulence
Prize Winner News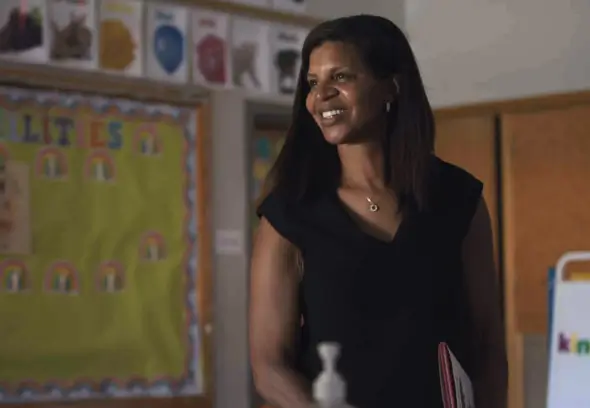 She had been teaching and helping oversee schools for more than a decade, but Cheryl Logan was just 37 years old when she landed her first job as a full principal.
By her own account, many teachers under her watch — in a large elementary school in suburban Washington, D.C. — were more mature than she was. Earning their trust meant both running a tight ship and pushing the norms — like launching a Fun Day that was "outrageously indulgent for little kids." 
So when her district asked Logan to start a new school the next year, she knew well that faculty could make or break an on-time opening. She promised a week's vacation at Thanksgiving if teachers would work evenings to get the place ready.
It worked.
"They were perfect; the evenings went fast. We had really solid professional development that mostly they led," Logan recalls. "Your people make it happen, or they don't."
For more than two decades, her leadership style of anticipating needs, fostering creativity, and inspiring care and collaboration has driven a meteoric career in public education across the U.S. After serving five years as superintendent of Omaha Public Schools in Nebraska, Logan returned to Philadelphia in July as inaugural executive director of the new McGraw Center for Educational Leadership.
The center is part of the University of Pennsylvania's Graduate School of Education (Penn GSE), where Dr. Logan earned her Ed.D. in 2017 from the Mid-Career Doctoral Program in Educational Leadership. 
A former chief academic officer at the School District of Philadelphia, she gained national attention for leading the 50,000-plus-student Omaha district during the COVID-19 pandemic. The system was among the first in the nation to return to in-person learning in 2020.
That performance contributed to Logan's winning a McGraw Prize in 2022. The Harold W. McGraw, Jr. Family Foundation Inc. also endowed the McGraw Center, which centers on preparing education leaders across all sectors of learning.
As a daughter of a police detective and an elementary school teacher, Logan grew up inside the D.C Beltway with an early respect for public service and for education. Both parents graduated from Philander Smith College, a historically Black institution in Little Rock, Arkansas, and her father served as a U.S. Marine. She says she became a superintendent because of the job's influence, scope, and responsibility in improving families' lives.
Fulfilling the potential of the role requires transparency — that is, explaining decisions — and bringing people along for the process, Logan says. In Nebraska, she struck a chord and made alliances with state lawmakers over the importance of local control.
"Sometimes you make a statement even if it's not for the people who are in the room," she explains. "Often, I would make remarks in our board meetings intended for our legislators in Lincoln, the capital. Anything that had to do with fiscal responsibility, spending people's tax dollars, local control — that was for Lincoln."
She envisions the McGraw Center as a hub for problem-solving, a place where educators, leaders, and scholars join to study and collaborate on tackling key issues in education. Among her goals: to cultivate community among the McGraw Prize recipients — to help them inform key conversations in education. She plans to invite them to join directly in center activities.
"The McGraw Prize winners have deep levels of expertise," Logan says. "They're mostly people who work in quiet, who have not sought attention. They're not striving for recognition — but striving for those impacts that happen to be worthy of recognition."
One of the center's big events, a symposium set for March, will center on navigating politics in the field. Logan splits the subject into two categories — small-p "politics" and big-P "Politics." 
The center already held a webinar in September to help school districts promote how they use federal support.
"All the time, I watch very bright, knowledgeable people who don't make it because they can't figure out the politics of their organizations — their board governance, for instance," she says. "Then there's the big P — the social and electoral politics that don't necessarily need to prevent education leaders from doing their jobs."
She points again to Nebraska. People assumed that she — "a 6-foot-tall Black woman coming from the East Coast" — would bring liberal politics with her to the Midwest. 
But she never disclosed her political thoughts, Logan says. "I would say I'm making decisions for the students I serve; let's talk about what needs to happen for children."
She expects efforts at the McGraw Center to run a gamut, from strengthening the value and importance placed on education writ large to reinforcing its accessibility and financial sustainability. The center also is well positioned to help educators address high turnover in leadership ranks; labor shortages; and operational and instructional trends, including the rise of artificial intelligence and changes in class attendance, Logan says.
Another priority: preparing leaders to foster educational opportunity and equity across different environments. "We want the McGraw Center to marry research and practice — with particular emphasis on practice," she says. "It's the people on the ground who are going to carry out solutions. We want to work on problems and not admire them."
That emphasis involves direct partnerships with school systems, such as an early collaboration in New Jersey over an attendance issue. While much of the center's early work has a political flavor, Logan is putting just one limit on its to-do list:
"We're not choosing any softballs."