'Education occurs throughout life and in and out of the classroom'
News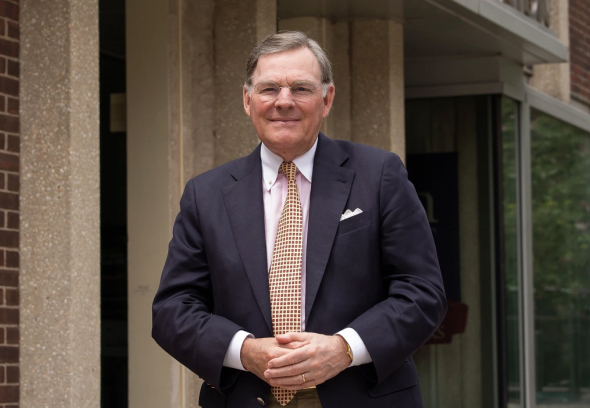 Society's needs are evolving — and the Harold W. McGraw, Jr. Prize in Education is evolving with it. 
This year marks the first time a McGraw Prize will be awarded for excellence in lifelong learning, but Harold McGraw III, former Chairman, CEO and President of The McGraw-Hill Companies said his family has been thinking about how to help learners at every stage of life for generations. 
We recently spoke with him about this year's winners Debra Duardo, David Wilson and Barbara Oakley, how education can evolve to meet the moment, and what makes a good nominee. 
Q: Our country, and our world, continue to confront new economic and social challenges. Why does the McGraw Family Foundation see education as the lever to help us make progress?
A: The Harold W. McGraw, Jr. Prize in Education was established in 1988 by the Board of Directors of McGraw-Hill to honor my father's lifelong commitment to education and literacy. He believed deeply that the work and accomplishments of innovative and excellent teachers and educators should be celebrated and recognized to advance best Practices.
He would be delighted by our family's partnership with Penn GSE. Together our Foundation and Penn GSE have created a powerful platform for promoting the work of more than 100 McGraw Prize winners.
Moreover, we can take best practices to a new level by creating a new McGraw Center for Educational Leadership at Penn GSE housing the McGraw Prize. By leveraging the Prize community and leadership training programs at GSE, we hope to prepare future generations of leaders spanning all types of education – from pre-school through corporate learning.
Q: This is the first year the McGraw Prize has honored an educator for their dedication to lifelong learning. Why is it important to champion this work now?
A: The McGraw Prize has always evolved with the times. We recognize that education occurs throughout life and in and out of the classroom. We felt the need to recognize and celebrate models of lifetime learning that expand education beyond its traditional borders.
I should add, however, that lifetime learning has long been recognized as key to personal and professional success. In a speech at Princeton in 1929, James H. McGraw, my great-grandfather and the founder of McGraw-Hill, noted that learning continues well beyond the classroom.
Q: This year's winners continue to make a significant impact in their areas of education. Are there shared characteristics of Prize winners?
A: This year's winners continue to meet the highest standards of excellence, innovation and dedication. They have excelled in a period of remarkable challenge given the Covid crisis and the rise of remote learning. But what this year's winners share with previous recipients is the support they received from family, friends and especially teachers and mentors who touched their lives and empowered them to achieve remarkable things.
Q: Nominations for the 2024 prizes open November 8. What makes an ideal nominee?
A: We're especially keen to identify innovators who have achieved a breakthrough result that should be highlighted and would benefit from the recognition and respect the Prize confers. We hope to highlight leadership and innovation that can be replicated and expanded. With the pace of change growing exponentially, identifying proven teaching, learning and leadership techniques is vital.